Diamond plate, also known as checker plate, tread plate and Durbar floor plate, is a type of metal stock with a regular pattern of raised diamonds or lines on one side, with the reverse side being featureless. Diamond plate is usually steel, stainless steel or aluminum.
Features of Aluminum Checker Plate (Aluminium chequer plate,Aluminum checkered plate)
►Antiskid
►Light in weight
►Convenient assembling
►Disassembling
Diamond aluminium tread plate or floor plate is widely used for a variety of structural, architectural and cosmetic applications. A method has been developed to roll metal plates with an upraised "lug" pattern, providing the customer with several choices to best meet the needs of the project, with specific qualities of cleanability, impact resistance, support strength, and corrosion resistance
3003 H22 Diamond Tread Plate – This has the same properties as the standard 3003 aluminum with the raised tread pattern to improve traction. This is very commonly used for tool boxes, wall panels, flooring, truck bed liners and trim, garage and workshop outfitting, step plates and any other application that needs the light weight and strength of 3003 aluminum with increased traction of the raised tread pattern.
Aluminum stair tread sheet, Aluminum tread Brite plate,Aluminum checker plate manufacturers, Perforated aluminum sheet china,Diamond sheet manufacturers, Aluminum tread plate manufacturers
3000 series aluminum is aluminium manganese alloy, and its manganese composition is about 1.0-1.5%. Aluminium 3000 series has the best anti-rust function. Thus, this kind of common aluminum alloys is conventionally used in air conditioning, refrigerator, car bottom and other humid environment. Its price is higher than 1000 series aluminum. What's more, 3000 series aluminum can not be heat-treated and strengthened, but can be strengthened by cold rolling mill process.
The representative products of this common aluminum alloys are 3003, 3A21, 3004, 3015 and so on. Aluminum alloy 3003 has high plasticity and excellent weldability. 3003 aluminum can be used to make various liquids or gas containers, such as oil tanks, gasoline or lubricating oil pipes and so on.
Aluminium 3000 is one of the hot selling products of Aluminum industry. Among numerous common aluminium alloys, Top Metal Manufacture Limited can provide you with high quality and multi-type 3003 aluminum alloy products, in order to help your business.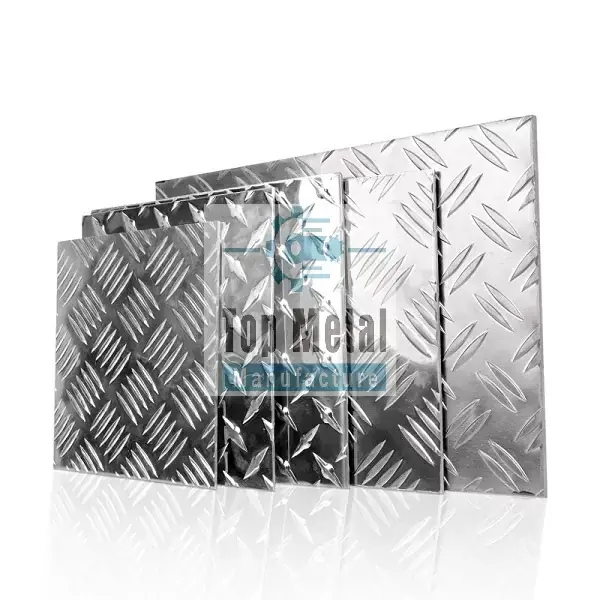 Aluminum sheet is any aluminum sheet metal thicker than foil but thinner than 6mm; it comes in many forms including diamond plate, expanded, perforated and painted aluminum sheet. Aluminum plate is any aluminum sheet metal that is thicker than 6mm
Temper of aluminum sheet: O, H, W, F, T
H:H12, H14, H16, H18, H19, H22, H24, H26, H32, H34, H111, H112, H114, H116
T: T0-T651
Size of aluminum sheet
Thickness:0.2-6.0mm
Width:100-2400mm
Length:200-11000mm
Mother coil: CC or DC
Weight: About 2mt per pallet for general size
MOQ: 5-15 ton per size
Protection: paper inter layer, white film, blue film, black-white film, micro bound film, according to your requirement.
Surface: clean and smooth, no bright speck, corrosion, oil, slotted, etc.
Standard product: GBT3880, JIS4000, EN485, ASTM-B209
Delivery time: about 30days after receiving the deposit
Payment: T/T, L/C at sight
Trading terms: FOB, CIF, CFR
Application of aluminum sheet
Aluminum sheet is used in construction material and building material. Including: roof panel, ceiling, in-wall, partition wall, shutters, window blind, gate, balcony, wall, road marking, street signs, road protecting plate, highway protecting plate, bridge carrier wall, scaffold, ship plate, etc.
Aluminum sheet is used in electric machine components. Including: protective plate, protective box, capacitor box, tank of power capacitor, electrolytic condenser, variable of battery, volume shaft, loudspeaker framework, switch plate, semi-conductor radiator, magnetic disk, motor frame, fan blade, electric cooker, cooling fin, heat sink, etc