Aluzinc Galvalume steel coil sheet is comprised of a steel sheet dipped in a coating of 55% aluminum, 43.4% zinc, and 1.6% silicone. The unique coating gives the steel greater protection from the elements, which allows it to outlast traditional galvanized steel.
Galvalume steel sheet is an alloy-coated steel sheet with the best combination of aluminum and zinc composition and structure. The coating contains aluminum, zinc, silicon and other elements. It combines the corrosion resistance and heat resistance of aluminum with the electrochemical (sacrificial anode) properties of zinc.
The aluminum-zinc-plated steel alloy coating is composed of about 55% aluminum, about 43.5% zinc, and about 1.5% silicon. Compared with traditional galvanized products, it has more excellent corrosion resistance, heat resistance, heat reflectivity and other characteristics. The zinc flower(spangle) on the surface of the aluminum-plated zinc plate is small and uniform, with bright colors and high surface hardness. It can be coated with fingerprint-resistant semi-permeable membranes of various colors, and is widely used in household appliances, construction, structure, electrical and other industries.
The surface of the Galvalume steel sheet has a unique smooth, flat and gorgeous spangle, and the base color is silver white. The coating compositions consisted of 55% aluminum, 43.4% zinc, and 1.6% silicon, respectively, by weight. The production process of galvanized steel sheet is similar to that of galvanized steel sheet and aluminized sheet, both of which are continuous molten coating process.
The combined weight ratio of the coating components is 55% aluminum (80% surface volume ratio), 43.4% zinc, and 1.6% silicon. Therefore, this product can best exert the long-term corrosion resistance and heat resistance of aluminum and the galvanic corrosion effect of zinc.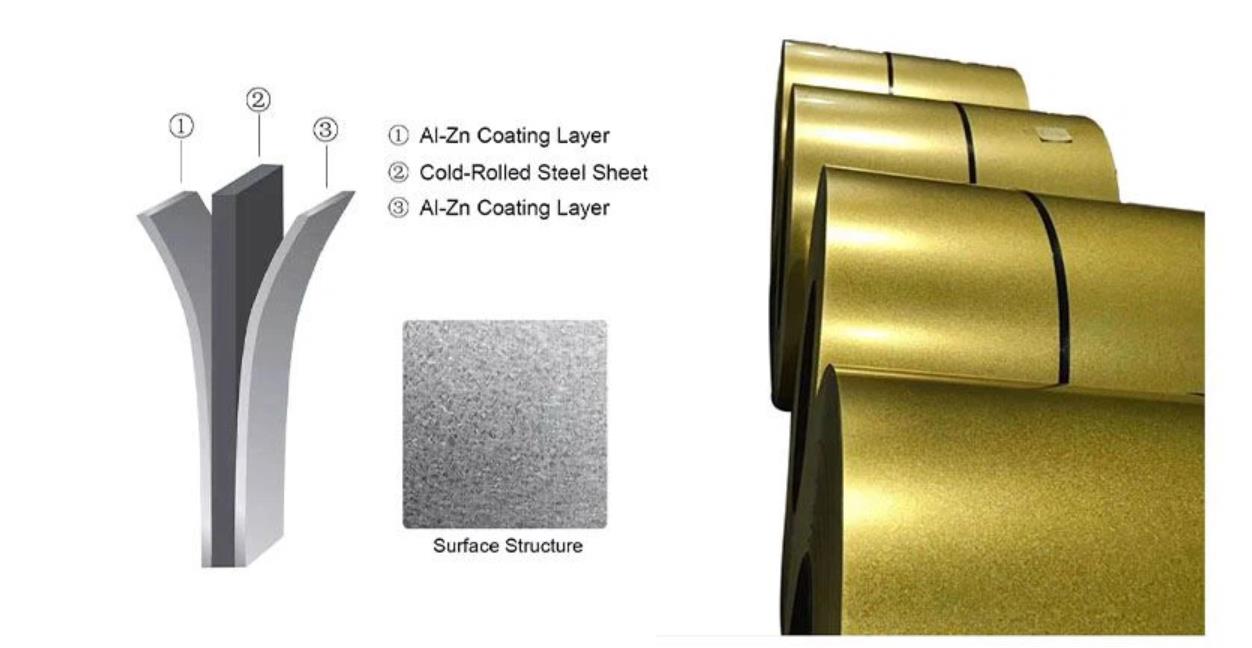 Construction: Roofs, Walls, Garage Doors, Acoustic Walls, Fences, Shutters, Plumbing and Modular Homes, etc.
Automobile: muffler, exhaust pipe, wiper accessories, fuel tank, truck box, bottom parts of automobile body, etc.
Home appliances: refrigerator backplane, gas stove, air conditioner, electronic microwave oven, LCD frame, CRT explosion-proof belt, LED backlight, electrical cabinet, etc.
Agricultural: pig house, chicken house, granary, greenhouse pipes, etc.
Industrial instruments: electric control cabinets, industrial freezers, vending machines.
Others: thermal insulation cover, heat exchanger, dryer, water heater, etc.