PVDF Coated Painted Aluminium Coil, Coated aluminum coil and sheet improves anticorrosive properties of aluminum, which are commonly used in food packaging, containers and cans. In addition, the coated aluminum coil and sheet embraces large industries including composite panel, ceiling, door, windows and electric appliances.
Alloy
1100 3003 5005 1050 1060 1070 3102 8011 3A21 3105 8079
Aluminum thickness
0.02mm-1.2mm
Aluminum max Width
2200mm
standard width: 1240mm
special width such as 1300mm, 1520mm, 1570mm,1595mm are also available
Coil's standard diameter
interior diameter: 150mm, 405mm, 505mm
Coating finish
PVDF, PLOYESTER, ACRYLIC ACID
MOQ
5 tons per size
Gloss
meet the customer's requirement
Total coating thickness
PVDF coating: more than 25 microns
Coating adhesive
no lower than first grade
Impact resistance
no cracking and peeling (50kg/cm, ASTMD-2794:1993)
Outer packing
export standard, wooden pallet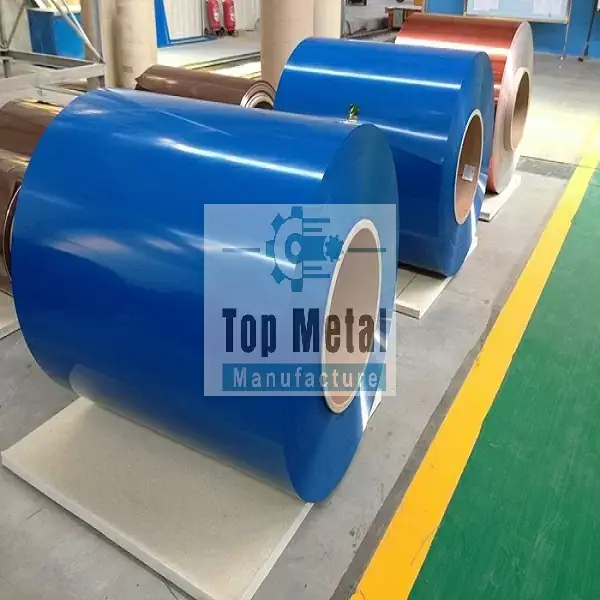 Aluminum Roofing Coil is the continuous and highly automated industrial process for efficiently coating coils of metal. Because the metal is treated before it is cut and formed, the entire surface is cleaned and treated, providing tightly-bonded finishes.

Aluminium Sheet Coil

1. For custom' color requests, we can deal as following:
Supply a physical sample of custom color. A color sample on metal is preferred. If other, it is also acceptable. But the color matching rate may be not good as color on metal.
New color sample is usually offered by our paint supplier in 5-7 days, special color should be in 7-10 days.
Upon receipt of color sample, please approve in writing as soon as possible. Once you approved, we will arrange purchasing and production
Top Metal Manufacture is a professional supplier cooperated with factory supplying quality aluminum materials like aluminium sheet, aluminum coils, coated aluminum coils, treadplates, diamond aluminum plate sheet, 5 bars aluminum sheet, stucco aluminum coils.
We can supply alloy as follows
Alloy: 1050 1060 1100 3003, 3105, 5052, 5005, 5754 5083 5182, 6061 6063 6082, 7075, 8011…
Temper: HO, H111,H12, H14, H24,H 32, H112, T4, T6, T5,T651
Surface:Mill/Emboss/Diamond/2bar/3bars/Bright
Thickness: 0.2mm to 300mm
Width: 30mm to 2300mm
Length:1000mm to 10000mm.
Awaiting for your new request with details.

Chemical Analysis of aluminum alloy Plate
Alloy
Si
Fe
Cu
Mn
Mg
Cr
Ni
Zn
Ti
Al
1050
0.25
0.4
0.05
0.05
0.05
-
-
0.05
0.03
Remains
1060
0.25
0.35
0.05
0.03
-
-
-
-
-
Remains
1070
0.2
0.25
0.04
0.03
0.03
-
-
-
-
Remains
1100
0.95
0.95
0.05-0.2
0.05
-
-
0.1
-
-
Remains
1200
1
1
0.05
0.05
-
-
-
0.1
0.05
Remains
3003
0.6
0.7
0.05-0.2
1.0-1.5
-
-
-
0.1
-
Remains
5005
0.3
0.7
0.2
0.2
0.5-1.1
0.1
-
0.25
-
Remains
5042
0.2
0.35
0.15
0.2--.5
3.0-4.0
0.1
-
0.25
0.1
Remains
5052
0.25
0.4
0.1
0.1
2.2-2.8
0.15-0.35
-
0.1
-
Remains
5083
0.4
0.4
0.1
0.4-1.0
4.0-4.9
0.05-0.25
-
0.25
-
Remains
5754
0.4
0.4
0.1
0.5
2.6-3.6
0.3
-
0.2
-
Remains
6061
0.4-0.8
0.7
0.15-0.4
0.15
0.8-1.2
0.04-0.35
-
0.25
-
Remains
6063
0.2-0.6
0.35
0.1
0.1
0.45
0.1
-
0.1
-
Remains
6082
0.7-1.3
0.5
0.1
0.4-1.0
0.6-1.2
0.25
-
0.2
-
Remains
7050
0.12
0.15
2.0-2.6
0.1
1.9-2.6
0.04
-
5.7-6.7
0.06
Remains
7075
0.4
0.5
1.2-2.0
0.3
2.1-2.9
0.18-0.28
-
5.1-6.1
0.2
Remains